AMR to Text Online Converter
Rythmex is an efficient AMR to text converter that is easy to use and quite affordable. You will get the speech extracted from AMR in several minutes. Save your time converting your audio file into 60+ languages.
Our service gets 4.9/5 from more than 550 reviews and about 10,000 individuals and teams use it worldwide every week.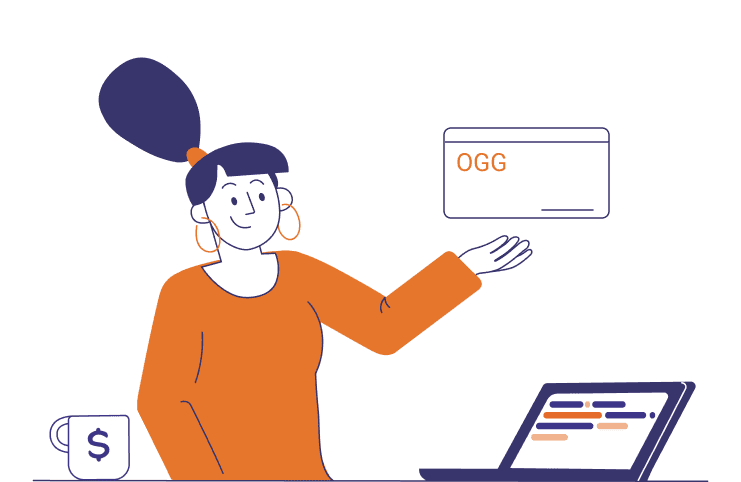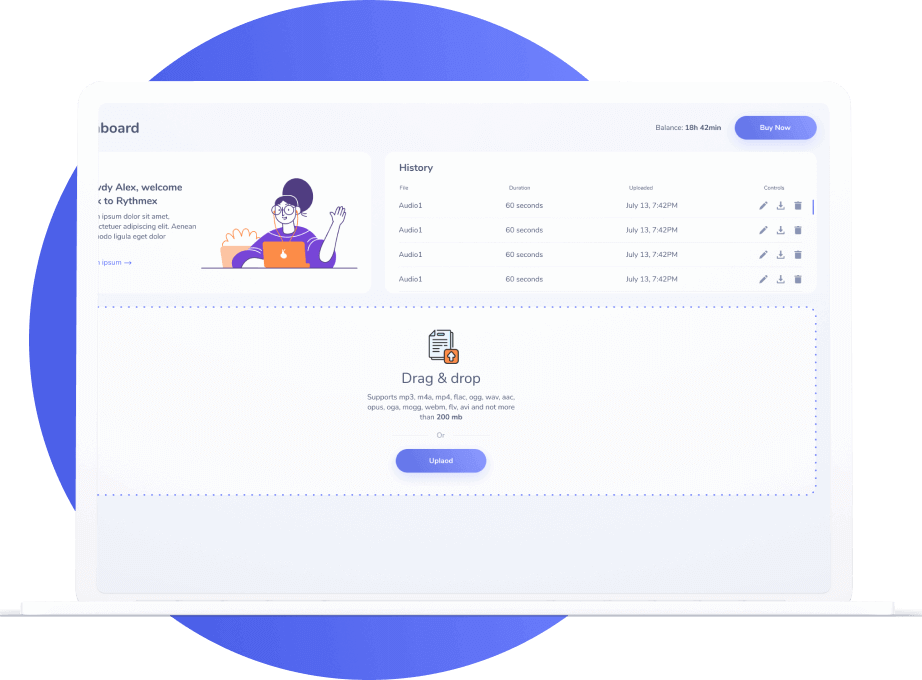 Advantages of Using Rythmex for Transcribing AMR to Text
We can enlist about 30 reasons why using the text file is more convenient and rewarding than AMR. You need Rythmex to make your life easier.

1. No extra software is needed for your device.

2. It is safe to convert AMR to text online due to our cloud-based servers.

3. The AI can work with 60+ languages.

4. You can correct the received transcription in the online editor for free.

5. You can export the files from the Rythmex converter in various text formats.

6. Rythmex is an affordable AMR audio to text converter online with 10 free minutes to start.
How to Convert AMR to Text?
AMR stands for the Adaptive Multi-Rate audio file. It is the format that has been developed for speech coding. The AMR files are compressed and easy to optimize.
If you need to convert AMR to text online, use Rythmex and do the following:

1. Register and Upload the Audio File
Log in or register on the Rythmex website. Upload your audio from PC, tablet, and mobile, via Dropbox, YouTube, or Google Drive. The first 10 minutes are free for transcribing.

2. Choose the Language
Opt for the language in the list. Rythmex supports 60+ languages and accents.

3. Pick Out the Mode
Choose from 'Machine Generated' and 'Human Generated' modes with the accuracy of 85% and 99%, respectively.

4. Get the Text File Ready
Receive your AMR to text file ready in about 5-20 minutes depending on the size. Correct something online in the editor. The 'Human Generated' mode will provide you with the ready text that does not need correction but within 24 hours.

5. Export the Text File
Use the tab 'Export Files'. Get your file in TXT, PDF, DOCX, and HTML, or opt for subtitles in JSON, SRT, VTT, and EBU-STL.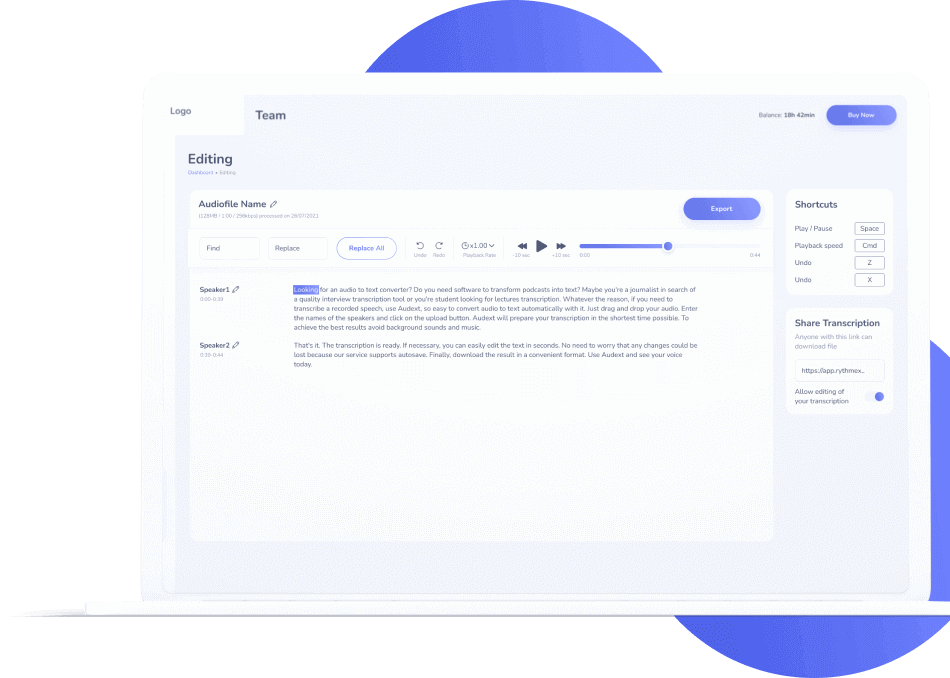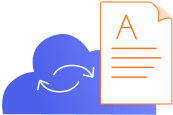 Upload your audio in one of the acceptable formats
How to get the best results using Rythmex audio to text service
The best results are received from the distinct talking of the speakers who do not overlap each other, the good-quality recording device installed next to the speaker, elimination of background noises, static, and echo.
It depends on the size and quality of the audio file. The software can automatically recognize any length but lengthy records can take longer. The average time is 5-20 minutes. The manual conversion is about 24 hours.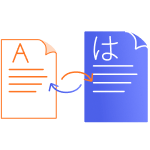 Avoid transition from one language to another in the same audio file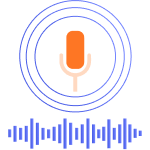 Use audio with clear speech and clean sound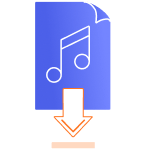 Do not upload songs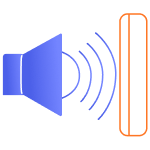 Avoid background noise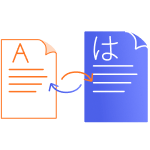 Avoid transition from one language to another in the same audio file
Why Rythmex
Solve your issues with automatic audio to text converter First thing first is the time, save it and solve your problem in a few minutes Use Rythmex for different purposes and jobs No need to take notes during lectures and interviews. Multiple text formats are available
Reviews
Other thoughts regarding Rythmex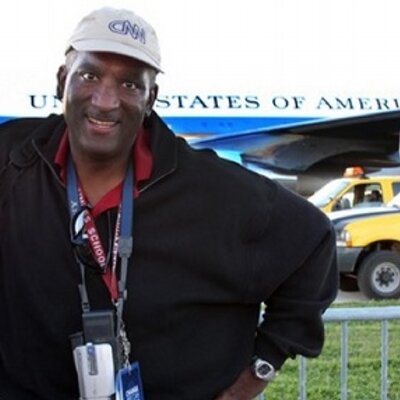 I've got my job done within minutes! A lot of work that would take me hours without Rythmex! Your software is amazing, indeed!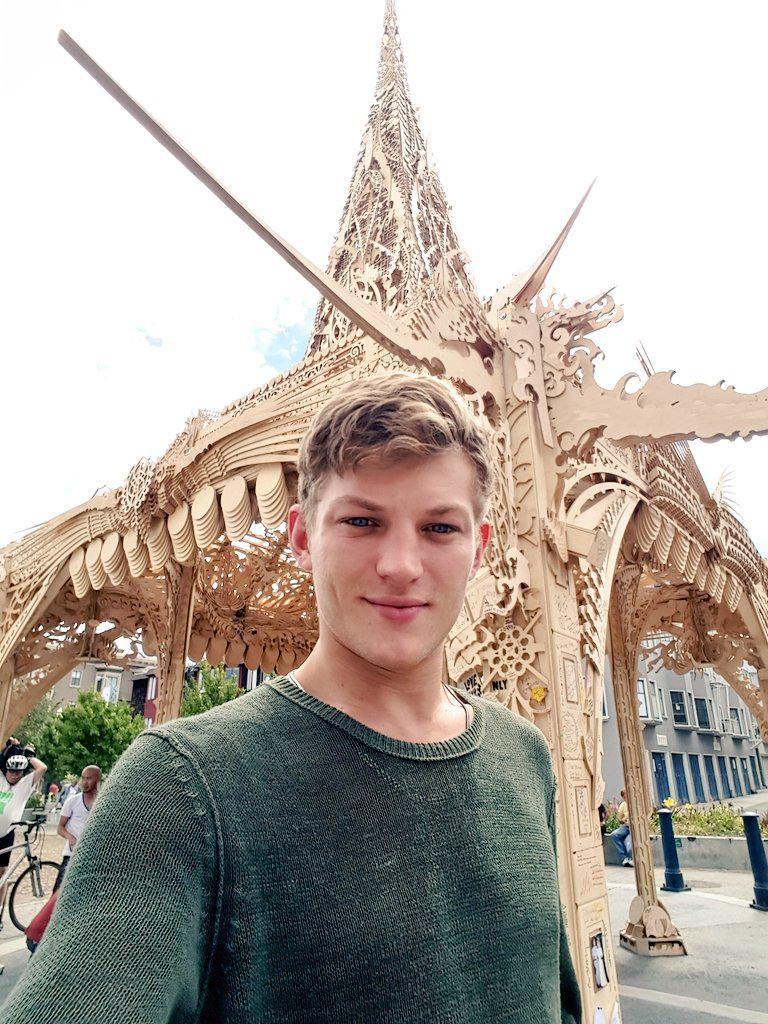 I haven't even suspected that there is such an easy, fast, and cheap way to convert AMR to text! I am a writer and that's what I really need. I am a big fan of this online software right now.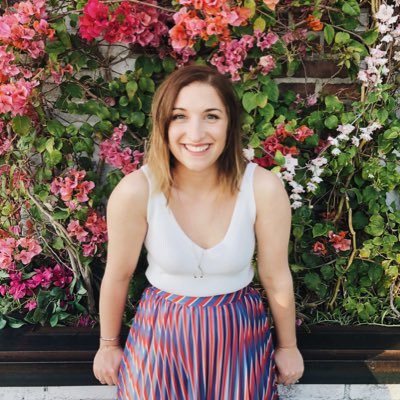 I am pleased! The program is very convenient to use. I am not quite a computer savvy but I had to transcribe a lengthy lecture into text, imagine, from the AMR format! And I did it so easily! Thanks!